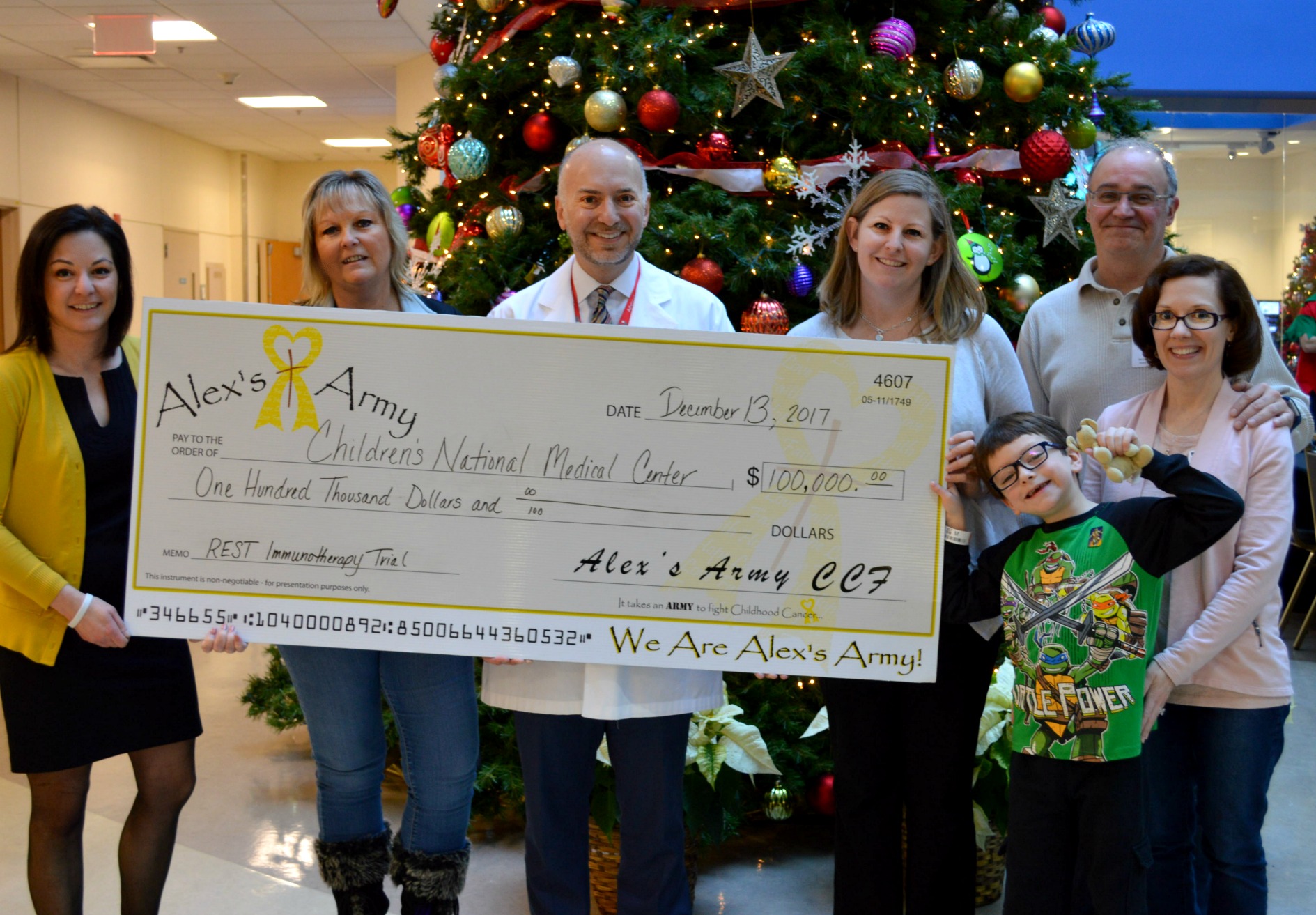 Our hearts are overflowing with thankfulness! Yesterday, a few of us from our Alex's Army team went to D.C. to present Dr. Jeffrey Dome and Children's National Medical Center with a check in the amount of $100,000.00!!!
Because of the successes the Phase I study is seeing, one of the trials Alex's Army helped to fund last year, this years' donation will continue to directly fund the REST Immunotherapy study as it goes into Phase II and will be opened to even more families!
Dr. Jeffrey Dome, MD, PhD, is Vice President of the Center for Cancer and Blood Disorders, Chief of the Divisions of Hematology and Oncology, and Associate Director of the Center for Cancer and Immunology Research at Children's National Health System in Washington, DC. He also is Professor of Pediatrics at the George Washington University School of Medicine & Health Sciences and the Thomas Willson and Lenore Williams McKnew Professor of Pediatric Oncology. He has chaired the Children's Oncology Group (COG) Renal Tumor Committee, which oversees clinical research on kidney tumors at more than 200 children's hospitals around the world, for more than 10 years and has authored more than 150 articles, books and chapters on pediatric cancer. Dr. Dome was one of Alex's Oncologists and we are so incredibly honored to be able to come alongside him and the researchers of Children's to help fund new treatments for children and families still fighting.
Please know that today and EVERY day we are humbled and filled with such gratitude for YOU, Alex's Army, for making this happen. We know that it is from YOUR support, that we are able to not only help equip the brilliant researchers fighting childhood cancer on the frontlines with the necessary funds they need, but that through your support we are able to bring a little bit of HOPE to the families who are fighting and to those who will be fighting in the days to come!
Beyond the funding presentation though, the day was special for another reason. Yesterday was the day we met Matthew and his family in person. Matthew is a Wilms Tumor Warrior who is currently on the Phase I REST Immunotherapy trial. To say meeting Matthew and his family was a blessing is an understatement…meeting the McDonnell family in person was EVERYTHING to our team. To have the opportunity to see Matthew full of energy, hugs, and smiles…was bittersweet…and he gives the BEST hugs! Inspired by Alex, Matthew, and all the children like these amazing kiddos are why we work so hard day in and day out to raise funds for research – to provide HOPE, to see SMILES, and to one day by the grace of God see CURES!
This was a GOOD day and we are so very thankful for the GOOD days!
On behalf of our Alex's Army Board Members, our Alex's Army team, Derek, Jacob, Caitlyn, myself and of course our sweet Alex…THANK YOU for having a heart to make a difference for our children fighting cancer…Thank YOU for being a part of Alex's Army!
With Faith, Hope, and Love Always,
Jenni Green
President & Co-Founder
Alex's Army Childhood Cancer Foundation